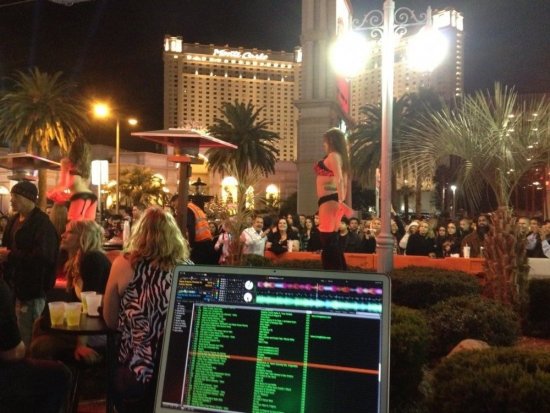 On New Years Weekend 2012, I had the distinct pleasure of Emceeing and DJing the brand new "Fat Bar" on the strip. Located directly across the street from the Monte Carlo Hotel and Casino. The "Fat Bar" is a new venture that was just purchased and is going to be built out to an outdoor spot on the strip that would rival others like Carnival Court, PBR Rock bar, etc. But this one is attached to a Fat Burger. I have seen the designer's mock up drawings, and it is going to be epic…
Since the construction is not underway yet, the owner and managers really put some serious effort into making the best of this location for the big holiday weekend. 4-5 beer garden, keg stands, and 2 complete bars, plus outdoor heaters, a revolving skylight, a 1st class DJ, and best of all, gogo dancers right there next to the sidewalk to keep the energy going all night.
All in all, the weekend was a big success, and fun for all. At any given moment, I had the gogos jamming, and 100s-1000s of people dancing in the streets. The girls had to of made serious bank. Tips were flowing at ridiculous speed from the big crowd of onlookers, and I know for a fact at least one girl received a $1000 tip.
Then it came time for the "countdown" to 2012. I will be honest, being THE "voice" for the south Las Vegas Strip – and having thousands of anxious party animals screaming and shouting for to my countdown and calls followed by a $400,000 firework show, was a highlight on my already large portfolio. It was a lot of fun.